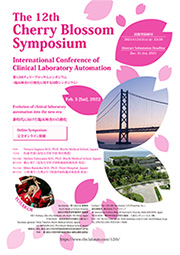 The 12th Cherry Blossom Symposium
Announcement
Rescheduled Date: Saturday, February 5th, 2022 / Online Symposium
The COVID-19, which started in early 2020, quickly spread globally including Japan. forcing the 12th Cherry Blossom Symposium to be postponed twice. We sincerely apologize for any inconvenience caused to related companies, organizations, and medical institutions.
Although the situation of COVID-19 in Japan has been settling down, it remains uncertain as winter approaches here in Japan. In addition, it is difficult at this stage to predict the end of COVID-19 pandemic in Asian countries, Europe and the United States.
Under these circumstances, after careful consideration, we have decided the online symposium would be appropriate for participants from all over the world.
It is such a pity that we cannot have a lively exchange of opinions and information at the in-person symposium; however, I truly hope that once we acquire herd immunity a few years later, the Cherry Blossom Symposium will be held as an in-person symposium again.
Even if it is online, we are preparing for the symposium to be productive and fruitful both academically and as a place for information exchange. We would be deeply grateful for your continued cooperation.
The Chairman of the 12th Cherry Blossom Symposium
Tetsuro Sugiura
What's New
2019.06.11

The 12th Cherry Blossom Symposium website opened.